Labrador Gold's comprehensive exploration program on the Kingsway project conducted over five months during the summer and fall of 2020 led to the discovery of visible gold in quartz vein (Big Vein). The gold mineralization shows features characteristic of epizonal gold type deposits and Big Vein has now been traced over a strike length of 400 metres. Big Vein lies within a larger corridor of intermittent quartz veining (quartz vein corridor) over a northeast-southwest trending strike length of 7.5 kilometres. Mapping indicates that quartz veining within the corridor is hosted by dark grey-black shales of the Davidsville Group, a stratigraphic horizon which hosts several gold occurrences in central Newfoundland.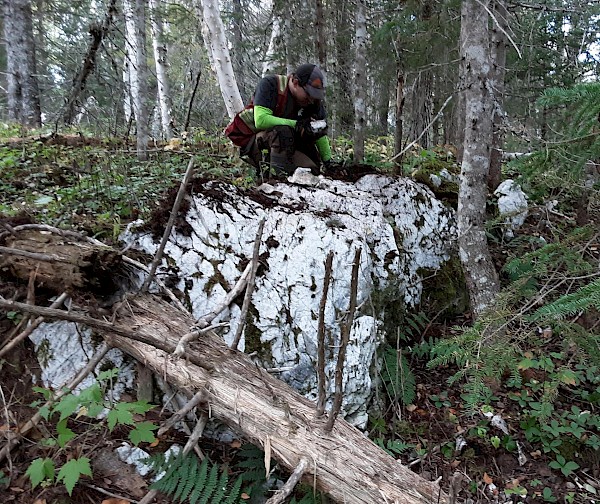 Big Vein in the vicinity of visible gold samples.
Significant (>1 g/t) gold assays in the vicinity of the initial visible gold samples have now been reported from rock samples over a 100 metre strike length, up to 30 metres north and 70 metres to the southwest.
In addition, gold values in the soils up to 9,946ppb (9.9g/t Au) were found along Big Vein with three additional samples assaying greater than 1,000ppb (1g/t Au) and 19 samples assaying greater than 100ppb (0.1g/t Au).
The four highest gold values occur between 100 and 300 metres to the southwest of the visible gold locations and suggest the potential for additional gold mineralization in this area. The overall anomaly extends over 500 metres to the southwest of the visible gold sample locations and extends the strike of potential quartz vein related gold mineralization in this area to 600 metres.
Gold anomalies in soil samples have also been found elsewhere on the property some of which are partly coincident with the quartz vein corridor and represent targets for future work.
Ground magnetics and VLF-EM have proved useful in defining structures and possible alteration zones. A resistivity high clearly outlines the north-east trending quartz vein corridor indicating more widespread quartz veining and/or silicification.
A 10,000 metre diamond drill program, constant of 43 holes, is proposed to test the gold mineralization in the Big Vein area.